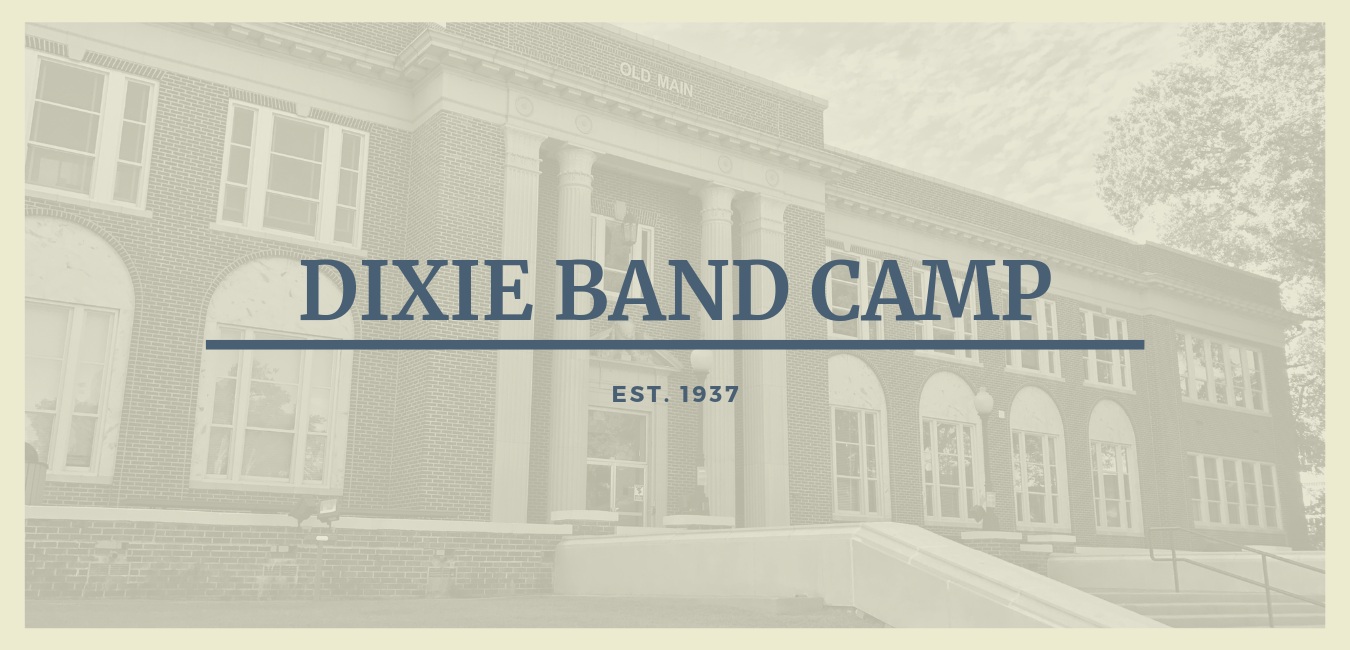 It all started when…
Dixie Band Camp, the oldest camp in the South and the second oldest in the nation, is in its 81st year and 29th year on the campus of the University of Central Arkansas in Conway, Arkansas. The overriding philosophy of Dixie is to give the participating students a meaningful and enriching musical experience. In addition to the musical activities, Dixie includes a full activity calendar, with multiple afternoon and evening social activities planned for the students. Night activities such as concerts, movies, dances, swimming, karaoke, plus an optional off-campus evening Water Theme Park excursion makes for a well rounded social experience for all campers.

Dixie Band Camp, founded in 1937 by Lee Wallick, the band director at Arkansas A&M College in Monticello, and R.B. (Scrubby) Watson, former director at Pine Bluff High School. The camp moved to Arkansas State University in Jonesboro in 1965 and was held on that campus through 1988.

The camp consists of 6 high school bands and 10 junior high bands. Students participate in band rehearsals, sectionals, master classes, theory classes, conducting classes, college prep class, sightreading classes, leadership class, ensembles, jazz improv class, Jazz Band, auxiliary/color guard instruction, and many recreational activities. All bands are featured in concert on the final day of camp.

Dixie Band Camp is a private camp governed by a board of directors made up of active and former public school and college band directors. Since the camp was founded by band directors and continues to be operated by band directors, the emphasis is, and always has been, the students. Dixie was founded on these principles and continues to support this student-oriented approach.

The Dixie Board funds an extensive scholarship program to help offset the cost of camp. In excess of $28,300.00 was issued in scholarships to deserving students last year. The scholarships varied in amounts from $40.00 to $295.00 and are awarded through Dixie and the individual school band programs. For more information on scholarships, see your local school band director.

We believe our combination of challenging musical experiences (both in the area of concert band as well as jazz band) and the varied social activities make for a well-rounded camp experience for our students.
2019 Dixie Band Camp Captains
Girls
Head Captain - Alexandra Trawick - Greenbrier, AR
Full Captain - Tianna Matthews - West Memphis, AR
Full Captain - MaKenzie McJunkins - Jonesboro, AR
Full Captain - Nichelle Wescott - Conway, AR
Full Captain - Sydney Rush - Valley View, AR
Full Captain - Zakia Brown - West Memphis, AR
Full Captain - Gillian Fooshee - Greenbrier, AR
Full Captain -Sarah Kemp - Conway, AR
Assistant Captain - Andrea Tennison - West Memphis, AR
Assistant Captain - Olivia Larson - Conway, AR
Assistant Captain -Serena Bratten - Westside, AR
Assistant Captain - Maddie Chaney - Paragould, AR
Assistant Captain - Bailey Davis - Jonesboro, AR
Assistant Captain - India Washington - Conway, AR
Assistant Captain - Sophia Ware - Greenbrier, AR
Assistant Captain - Riya Deshpande - Conway, AR
Assistant Captain - Aurie Limperis - Greenbrier, AR
Assistant Captain - Jaden Berry - Southside, AR
Assistant Captain - Claire Greene - Conway, AR
Assistant Captain - J'Kia Jeffries - West Memphis, AR
Assistant Captain - Anna Claire Smith - White Hall, AR
Assistant Captain - Jordan MacPherson - Lakeside, AR
Assistant Captain - Hannah Smith - Greenbrier, AR
Assistant Captain - Juliana Griffith - Pocahontas, AR
Assistant Captain - Ashlie Green - Greenbrier, AR
Assistant Captain - Arial Kyles - West Memphis, AR
Assistant Captain - Brittney Ammons - Nettleton, AR
Assistant Captain - Sharnetta Campbell - Conway, AR
Boys
Head Captain - Jake Bridgers - Conway, AR
Full Captain - Levi McGrew - Nettleton, AR
Full Captain - Lee Pouncey - West Memphis, AR
Full Captain - Yoshio Yamashita - Russellville, AR
Full Captain - Matt Morgan - Gosnell, AR
Full Captain - Christopher Walters - Conway, AR
Full Captain - Kenaz Bailey - West Memphis, AR
Full Captain - Logan Hisaw - Dallas, TX
Full Captain - Chandler Richmond - Conway, AR
Assistant Captain - Kaden Mooningham - Conway, AR
Assistant Captain - Logan Gramling - Jonesboro, AR
Assistant Captain - Lamarrius Danley - West Memphis, AR
Assistant Captain - Luke Zellner - Greenbrier, AR
Assistant Captain - Gatlin Childress - Paragould, AR
Assistant Captain - Ben Oliver - Nettleton, AR
Assistant Captain - Jalen Nickerson - Wynne, AR
Assistant Captain - Nick Acklin - Batesville, AR
Assistant Captain - Jaden Pierce - Conway, AR
Assistant Captain - Ethan Kaiser - West Memphis, AR
Assistant Captain - Holden Welch - Jonesboro, AR
Assistant Captain - Collin Marlin - Pocahontas, AR
Assistant Captain - Luis Campos - Paragould, AR
Assistant Captain - Carter Johnson - Russellville, AR
Assistant Captain - Nathan Yauger - Jonesboro, AR
Assistant Captain - William Rowe - Conway, AR
Board Member - Richie Williams, Paragould AR
Board Member - Greg Bruner, Highland AR
Associate Board Member - Tim Hendrix, Bentonville AR
Associate Board Member - Robin Ratliff, Conway AR
Associate Board Member - Mary Poppelreiter, Maulmelle AR
Associate Board Member - Marcy Wells, Greenbrier AR
Associate Board Member - Grant Harbison, Jonesboro AR
Associate Board Member - Kim Webb, Paragould AR
President - Robin Nix, Jonesboro AR
Vice-President - Steve Warner, Jonesboro AR
Secretary - Cathy Williams, West Memphis AR
Board Member - David Leonard, Jonesboro AR
Board Member - Tim Cunningham, Conway AR
Board Member - Phil Burns, West Memphis AR
Board Member - Dr. Ricky Brooks, Conway AR
Board Member - Susan Smithey, Gulf Breeze FL
Board Member - Jennifer Church, Greenbrier AR